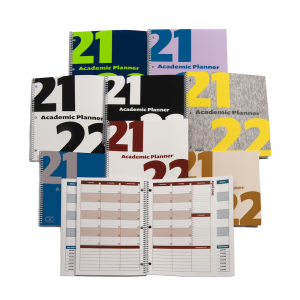 Time management is a challenge for everyone but can be especially difficult for students. Between homework, school, extracurricular activities, family, friends, jobs, and more, a student's time is truly not their own.
Does your student have difficulty balancing after-school activities and homework? Are homework assignments missed due to poor planning and time management? Support your student with this specially designed Academic Planner.
Skills4Life is an Order Out of Chaos affiliate.
---
Why it Works:
It's Easy to Use
Assignments, due dates, and after-school activities can be seen at a glance.
It's Functional 
Homework and studying are easily scheduled during "available" times.
It Puts the Student in Control
Students can plan time for schoolwork around after-school activities without leaving things until the last minute. Special features include:
A customizable index page at the front of the planner enables students to record their class only once. Mitigates forgetfulness and frustration.
Weekly planner pages line up on a subject-by-subject basis, creating an easy method for students to record and review their weekly schedules.
Days of the week are listed horizontally across the planner, allowing students to quickly see assignments and due dates and creating a continuity that is critical to developing time management skills.
Includes space to enter after-school activities and weekend commitments, allowing students to PLAN their weekly workload.
The unique grid system quickly reveals both scheduled and available blocks of time, facilitating weekly time management and planning strategies.
Larger size pages allow for more room to write assignments and appointments.
The handy vinyl back pocket holds notes, slips and other necessary papers.
Based on a school calendar (July to June).
Learn How to Use Your Planner Like a Pro!
Read our blog post – 12 Steps to Use Your Planner Like a Pro – for additional tips on how to get the best results from your academic planner!
Skills4Life is an Order Out of Chaos affiliate