Learn Creative Ways to Engage Your Baby in Tummy Time Activities 
Tummy Time classes are ideal for babies, 3 to 18 weeks old, that struggle with latching or breastfeeding, belly play, sleep, reflux and bloating, constipation, posture development, position-related skull deformities, flat head syndrome (Plagiocephaly), and asymmetries or gestational constrictions, such as torticollis.
Tummy time, the amount of time your baby spends on their belly while awake and supervised, is the foundation of sensory-motor skills development in infants.
Spending time on their belly helps your infant:
• Maximize their nervous system function
• Elicit more adaptive and successful regulation responses
• Decipher sensory input correctly
• Evoke non-compensatory functional movement
• Increase bond and connection with the whole family
According to a report published in the peer-reviewed journal Developmental Medicine & Child Neurology, pediatric societies "strongly encourage 'a certain amount of tummy time' … to counteract the effects of sleep position on awake positioning practices and subsequent development."
Tummy time and an active start are vital for your baby's optimal growth and development.
Tummy Time Classes
Skills 4 Life is now offering individual one-hour online tummy time classes.
When
Call for scheduling options.
Where
Tummy time classes are currently taught online.
Cost
Four Private 1:1 Online Classes for $400.
See our FAQs to review our Payment & Cancellation Policies.
"Yrma was amazing. She knew exactly how to help and what to do. I recommend this [Tummy Time] class for anyone who has (and doesn't have) concerns about their baby."
Connect, Play & Thrive with Your Baby at Tummy Time Classes!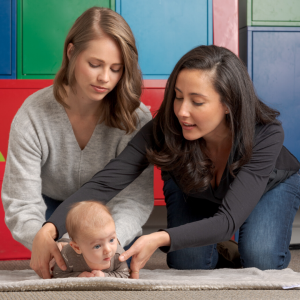 Belly play helps babies to strengthen the muscles in their core, upper body, and hands. It also incorporates exercises that positively impact speech, vision, balance, and coordination as well as other challenges your baby will encounter in their new gravity-ruled environment.
Furthermore, tummy time promotes a stronger connection with caregivers and helps with feeding and digestion issues, such as gas and acid reflux. It also reduces flat spots on a baby's head, which can develop from sleeping and playing on their back.
As a result, tummy time can have a significant effect on your baby's later development.
"I couldn't believe how long my son stayed in tummy time each session! It was the longest he'd ever held the position! … I really enjoyed Yrma's methods & it helped me to tend to my son's needs better while encouraging him to do tummy time."
Tummy Time & Your Child's Development
Our Tummy Time classes are taught by Yrma Perdomo, a registered & licensed Occupational Therapist (MS OTR/L) with a specialty in neurodevelopmental intervention strategies for young children.
Her mission is to educate parents about how to use simple movement strategies within a baby's pre-crawling period to help the infant develop optimally.
This specific approach is used as a preventative treatment that helps parent connect with their babies in a meaningful way based on the quality of the interaction, not the duration. Her approach gives parents evidence-based tools that further support their child's neurological development through their lifespan.
She can teach you a simple step-by-step approach to become your baby's tummy time expert.
"As a second-time mom, I thought I had the basics covered … But within minutes of the first session, my mind was blown! … Yrma conveys her expertise in a very approachable way, providing feedback & guidance without a trace of judgment, & easily incorporates personalized suggestions and techniques. … Yrma even gave us strategies to help with baby girl's head-turning preferences to help mitigate a flat spot she was developing. I have learned so much & always feel so empowered by what we accomplish at each session, & would recommend Yrma to every new mom I know!"
Sign up for Skills 4 Life Tummy Time Classes Today!
Skills 4 Life Pediatric Occupational Therapy offers individual one-hour tummy time classes online. Call our office for scheduling.
Parents will learn creative ways to engage their baby in fun tummy time activities that positively impact their baby's neurodevelopment.
Reserve your Tummy Time class spot today!