Be Proactive About Your Child's Development & Academic Success
Learn More About
Our Specialties
When children struggle with basic skills – like handwriting, turning in homework assignments, or controlling their behavior – they may experience stress, frustration and embarrassment. They often become self-conscious about their inability to perform these everyday tasks, especially in comparison to their peers. As a result, they can become overwhelmed, act out, or avoid doing the work altogether.
Consequently, a child's academic performance suffers and so does their self-esteem. The long-term ramifications of this can affect every aspect of their life.
For a parent, it can be difficult to know when or how to intervene. It's natural to think that poor penmanship isn't serious. Or, be under the impression that a child's inability to control their impulses is just a phase they're going through.
The earlier you get your child the help they need with these fundamental skills, the easier it is to resolve. So, don't wait. Be proactive. Help your child reach their full potential and contact Skills 4 Life today for a consultation.
Skills 4 Life Pediatric Occupational Therapy Uses Evidence-Based Strategies to Help Your Child Succeed
It's never too late for your child to learn the academic and social-emotional skills they need to become a happy, healthy & prosperous adult.
Skills 4 Life Pediatric Occupational Therapy offers your child a safe, compassionate environment to learn the critical skills they need to be successful.
The experienced therapists at Skills 4 Life specialize in handwriting, keyboarding & executive function coaching, but also work with children on social-emotional learning, motor skills, self-regulation strategies & activities of daily living.
Skills 4 Life develops an individualized plan of care for each child based upon their specific needs, and uses evidence-based strategies to help your child master age-appropriate developmental skills, become more independent, increase academic success & develop confidence.
The results speak for themselves.
"Skills 4 Life has been an amazing positive and life-changing experience for my daughter and our family. After being diagnosed with ADHD and dyslexia, we were overwhelmed by the amount of information and "solutions" out there. We are so grateful to have found Karina and her team. Skills 4 Life not only builds skills and manageable systems to support executive functioning, they build self-confidence and a sense of meaningful purpose to learning. As a result, my daughter, has a newfound positive approach to challenges, both in life and at school!"
Skills 4 Life offers a variety of classes in Boulder, Colorado to help children – from infants to teens – cultivate fundamental age-appropriate skill sets. Our pediatric therapists specialize in early intervention strategies, handwriting, keyboarding, social & emotional learning, as well as executive function coaching.
Contact our office by email at
karina@skills4lifeot.com
or by phone at
(303) 351-1828
for a free consultation.
Latest from the Skills 4 Life Blog: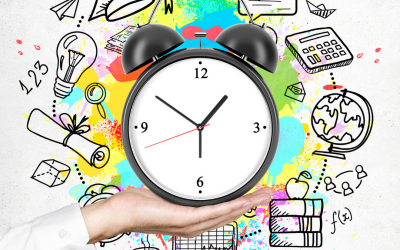 Time management is a challenge for everyone, especially for middle and high school students. Between homework, school, after-school activities, family, friends, jobs, and more, their time is truly NOT their own. And in this fast-paced culture, effective time-management skills are essential.
Read more for some helpful tools and tips to help your students master basic time management strategies!
read more